I've noticed that certain types of books are preferred more than others at different age ranges. Below you will find the types of books both of my children absolutely love to read or have loved to read between the ages of 12-24 months.
Pop up books. Books that have images pop up off of the page add so much interest and interaction for this age group. I absolutely love reading pop up books to my kids. The trick is making sure they don't destroy them by putting them up high or out of sight if unsupervised. If for some reason they do tear them, tape works to fix most issues. I get my books for .25 cents to a dollar (find out how here). Because they are so inexpensive for me to buy and replace, when a book is damaged it does not upset me.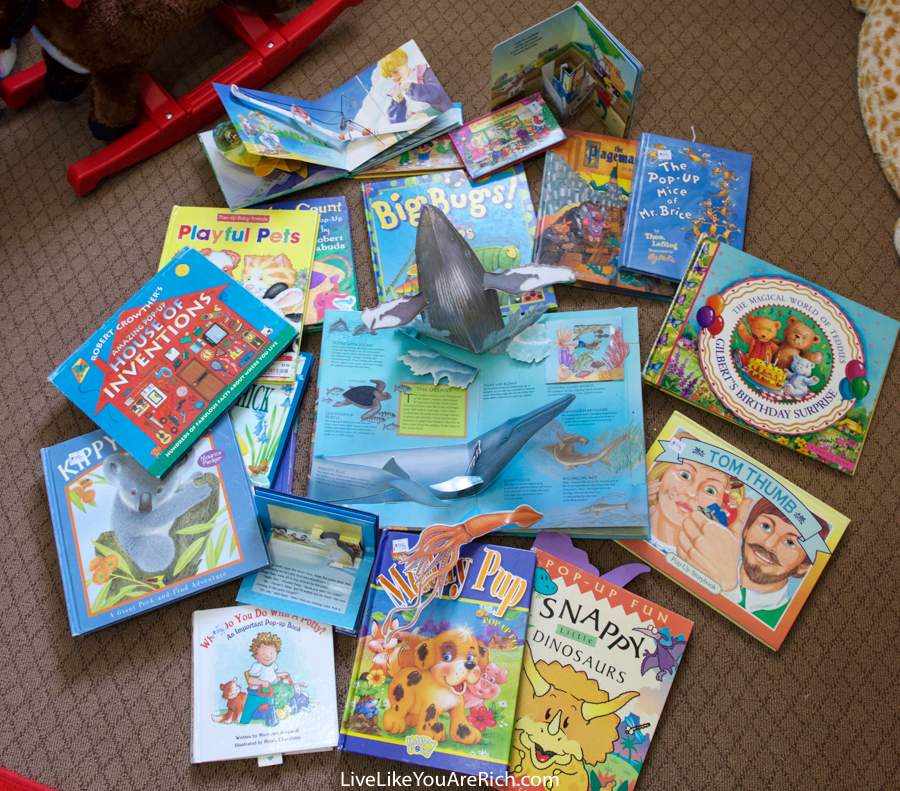 Flap books. Books that allow little fingers to find images underneath a flap are a favorite among this age group. I try to protect these books more than others as well.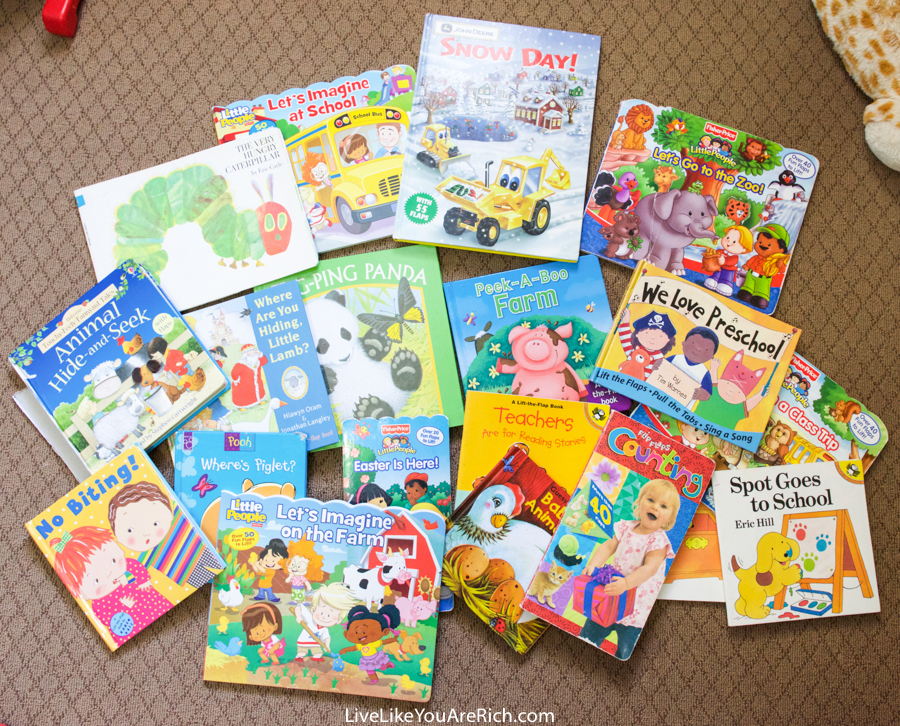 Words they know and learning books. Simple object and counting books allow children in this age group to say known words, practice counting and learn to associate objects with names.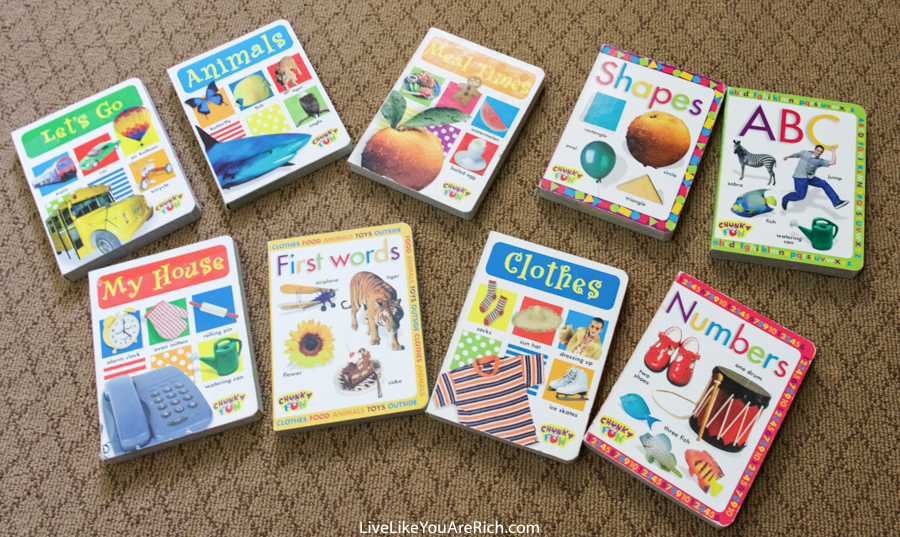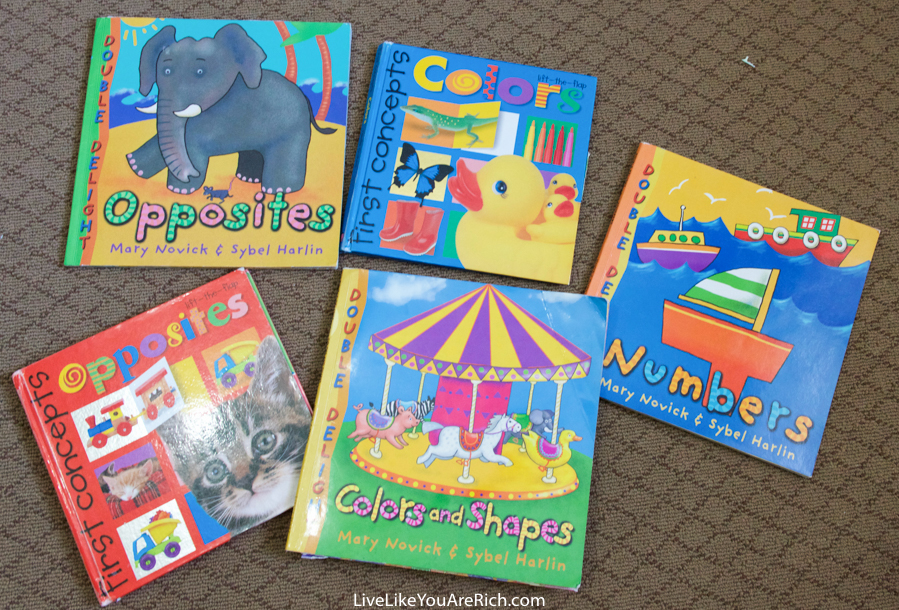 The parent's favorite books. At this age, I've found that it is fun to read my favorite kid books aloud while they pay attention or play beside me.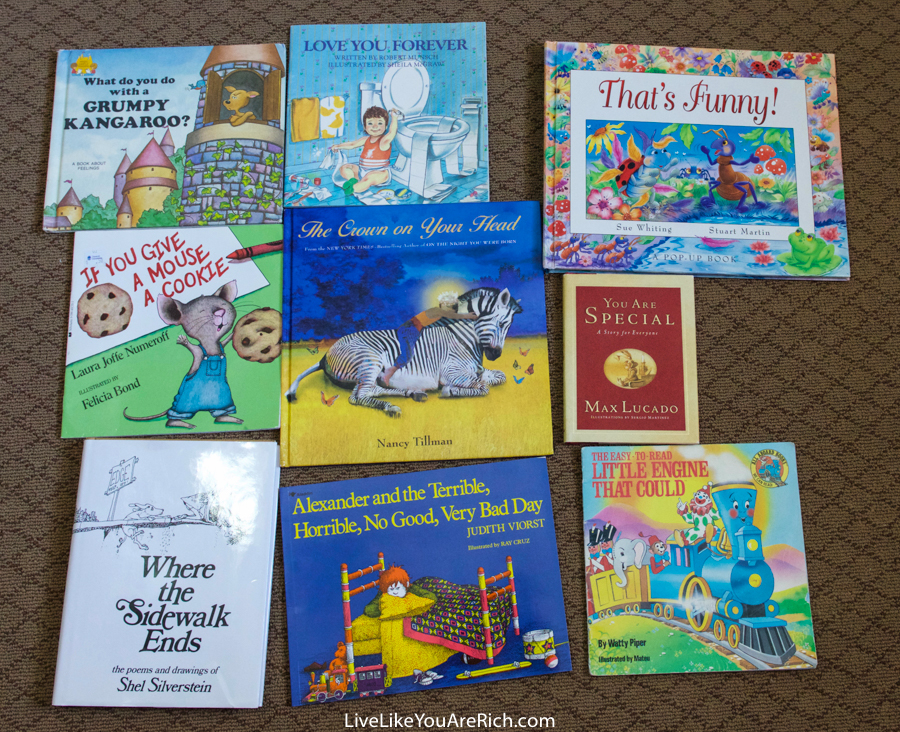 Books that have removable pieces. Although these types of books are hard to keep together, children use their motor skills to remove and replace pieces. My children love these books.

Little People farm animals, Bible puzzle books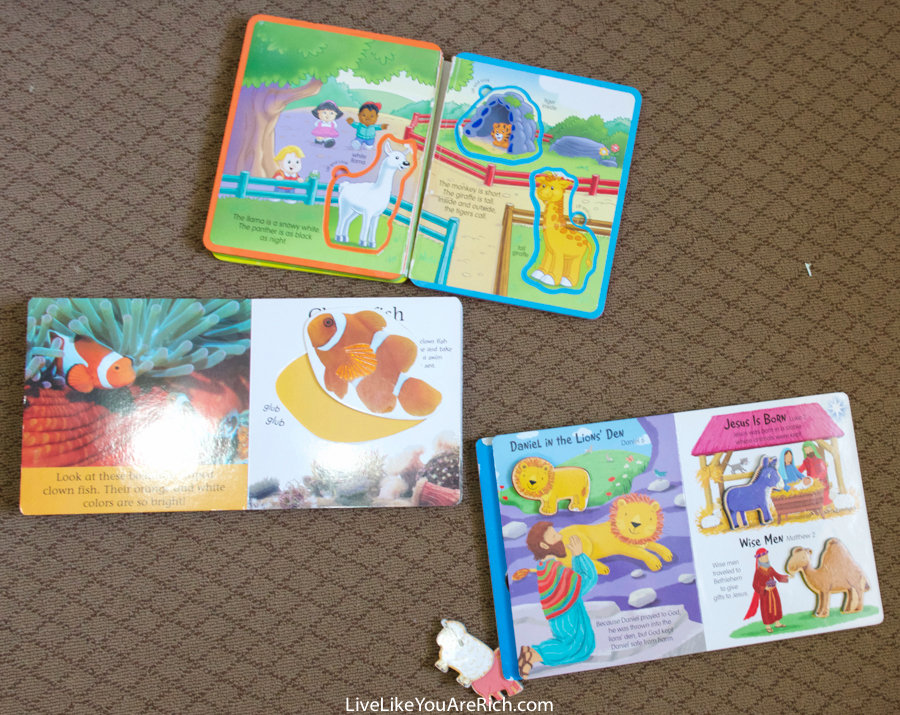 Moving Eye aka 'Googley Eye' books. Who doesn't like to learn and practice the names of animals while seeing their moving googley eyes?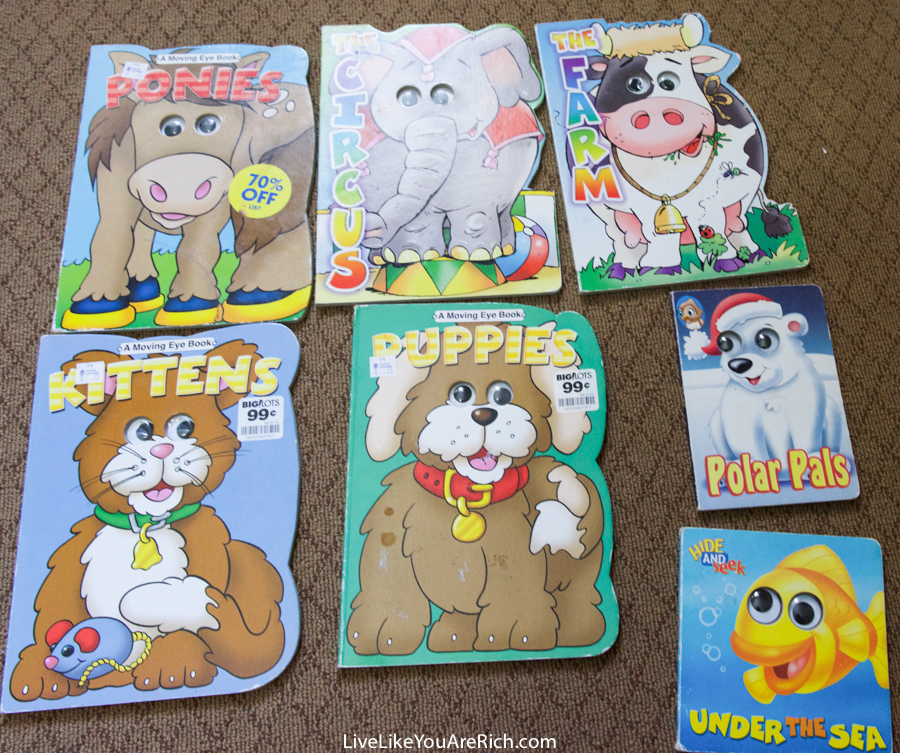 Look Inside Books. If anyone knows the exact name for this type of book, please comment below so I can update this blog post. My kids love these books where things are peeking through a window and/or disappear as the pages are turned.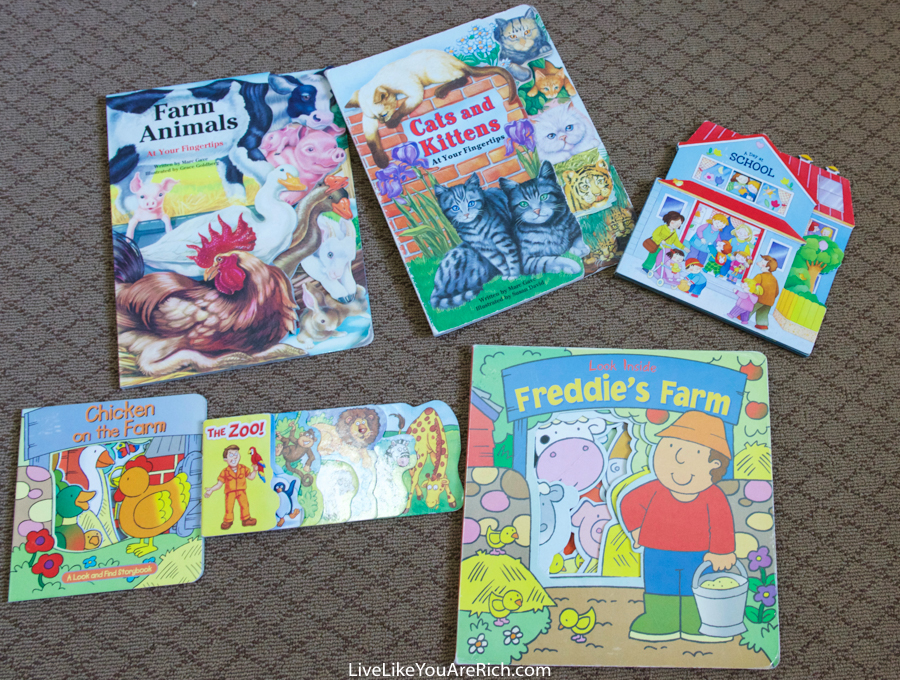 Medium-sized Board Books. My kids like these board books. They are a great size for their hands and typically geared for this age bracket.
These next books are from the list of newborn to one year old favorites. I've found that for ages 1-2 the following types of books are also just as well liked as when they are babies.
Books with count down objects that can be touched and disappear with each page—these are their all time favorites:
Books with large, bright baby faces:
Books with finger puppets:
Sparkly books. This one was a surprise, but both of my kids love books with sparkly accents.

Princess Sparkle, Starlight Ballerina, Learn Your Colors, Rainbow Mermaid, etc.


Touch and feel books with different textures–scratchy, soft, etc.

Things That Go, Trucks, First Words, Farm, Are You Ticklish?, Baby Animals, etc.


Play-a-Sound books.

I replace the batteries when they stop making noise and keep them longer. Safety Tip– The covers need to be screwed on well as button batteries are a potential swallowing hazard for this age group.

Eric Carle Baby Animals, Let's Talk, Noisy Trucks, Quack! Quack!, Construction, Thomas the Train, etc.


Little learning books—hand size books. Little chubby hands love these books. They love to carry them around and are able to turn the pages easily.
Rhythm/singing books: I have them sit on my lap and bounce them up and down to the rhythm of the songs and rhymes and sometimes bounce them really high on certain phrases like "Chica Chica Boom Boom" and they LOVE it!
Interactive books. Driving books, tool books, puzzle books (although the pieces are hard to keep track of, they are a hit):
Slide a door open books. These are different than flap books. I've found that little fingers struggle with flaps and they start being a bigger hit around 1-2 years old. But the doors that simply slide open are easier for younger babies.
Squeaky, squishy, and teething books. Books that are soft and make noises are a definite favorite among this age group.
Little Lost Lamb, Daisy Duck, Sesame Street Teething Book, etc.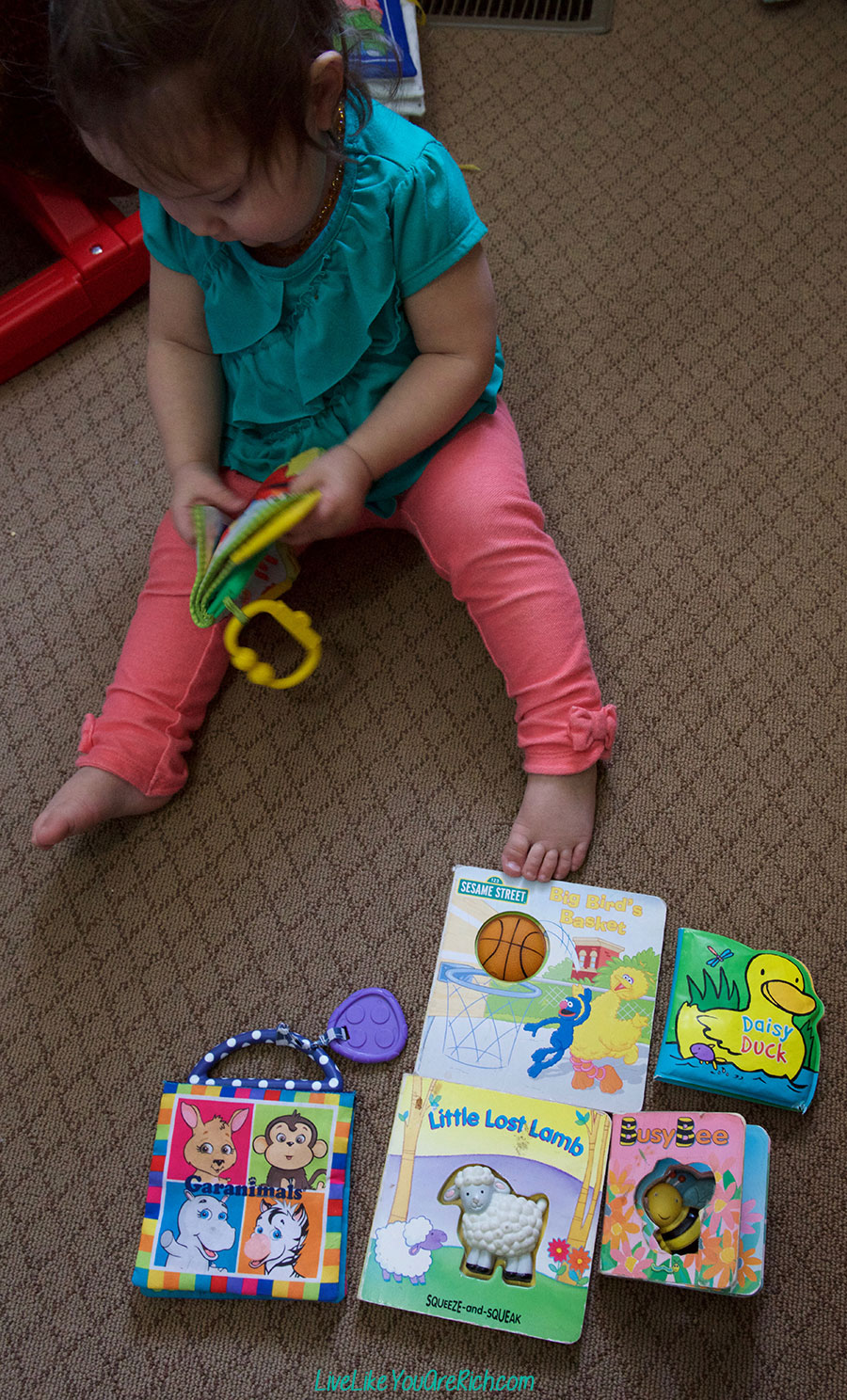 Well, those are the best types of books I've found for 1-2 year olds.
I hope your children enjoy them as much as mine do!

For other 'rich living' tips and money saving tips, please subscribe, like me on Facebook, and follow me on Pinterest and Instagram.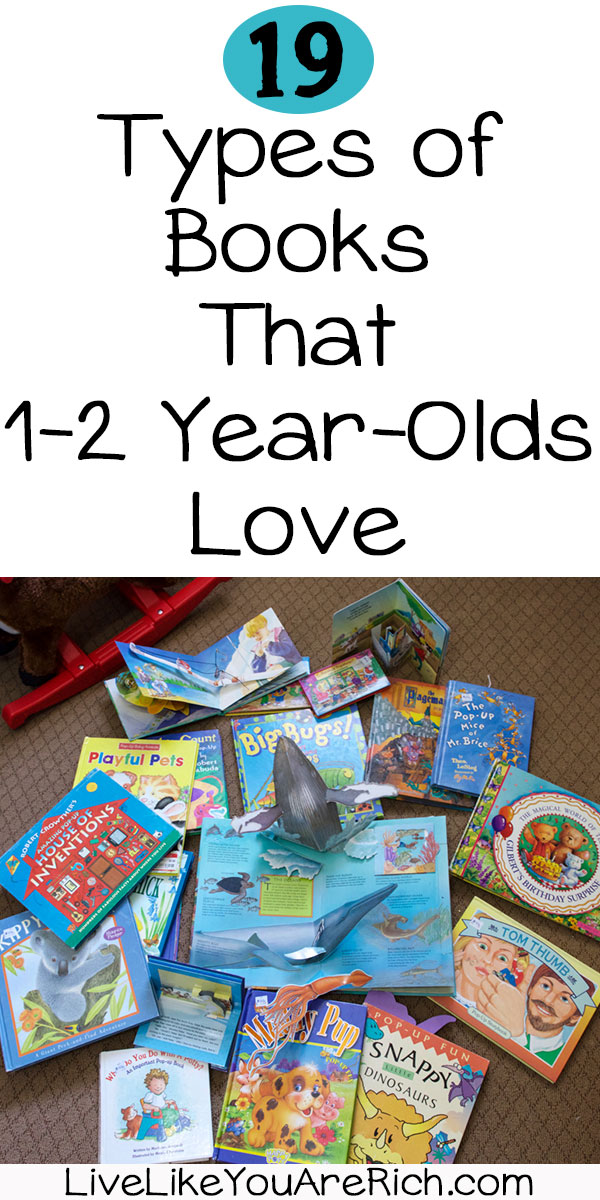 Related posts:
33 Ideas on How to Get Children to Love Reading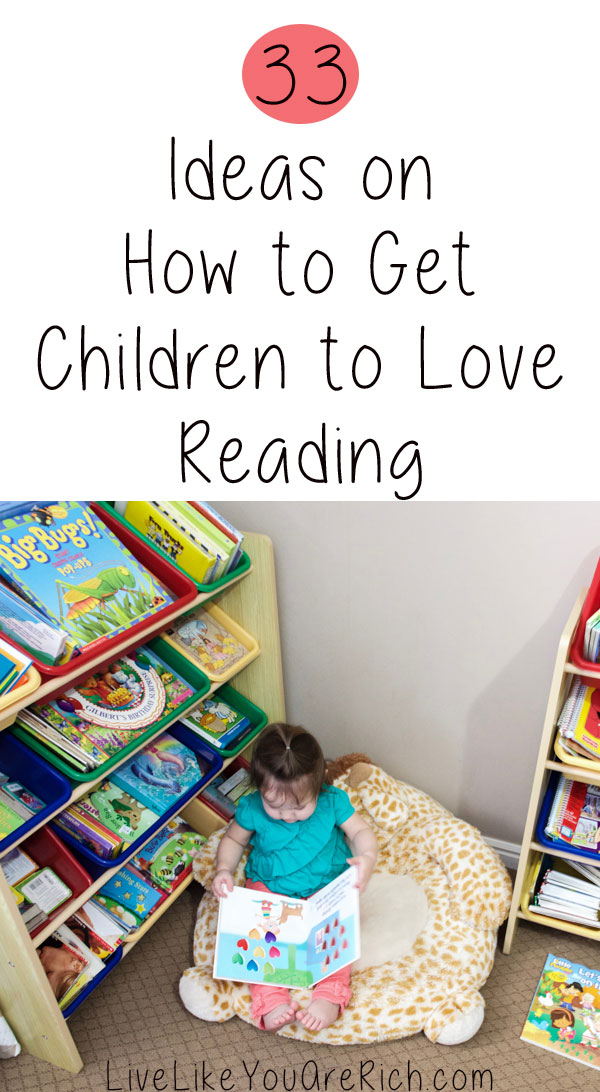 15 Ways to Save Thousands on Baby and Children's Books