For me, one of the biggest savings on groceries comes from buying items on sale and using coupons. I have been couponing for years (over 10 years actually) and I save anywhere from $200-$350 a month.
I was couponing before the days of coupon match-up sites and was left doing all the research by myself. I would spend hours looking over my coupons, searching the ads, and walking up and down the isles in the stores, calculator in one hand and pen and paper in the other. It took hours every day to be successful.
Then there was a surge of deal bloggers that began emerging on the internet, trying to save us all time. I was so happy to get help. I was able to find a deal on one site and go to another blog and find a deal there. It was easier than doing it myself for the most part.
Then along came the Favado app. I downloaded it as soon as it was available. I was so excited because I no longer had to do all of the work I used to.
Favado has united the world of online deal and coupon match-ups. They work with a lot of  deal bloggers all over the country who input accurate information, so no matter where the Favado App user is, they can find local sale and coupon match ups.
Are you a fan of Favado? You could win $1000.00 by sharing your thoughts about it. Share your story here: #MyFavado Sweepstakes.
If you haven't used Favado I'll explain some of what it can do.
It shows the items on sale at your local stores.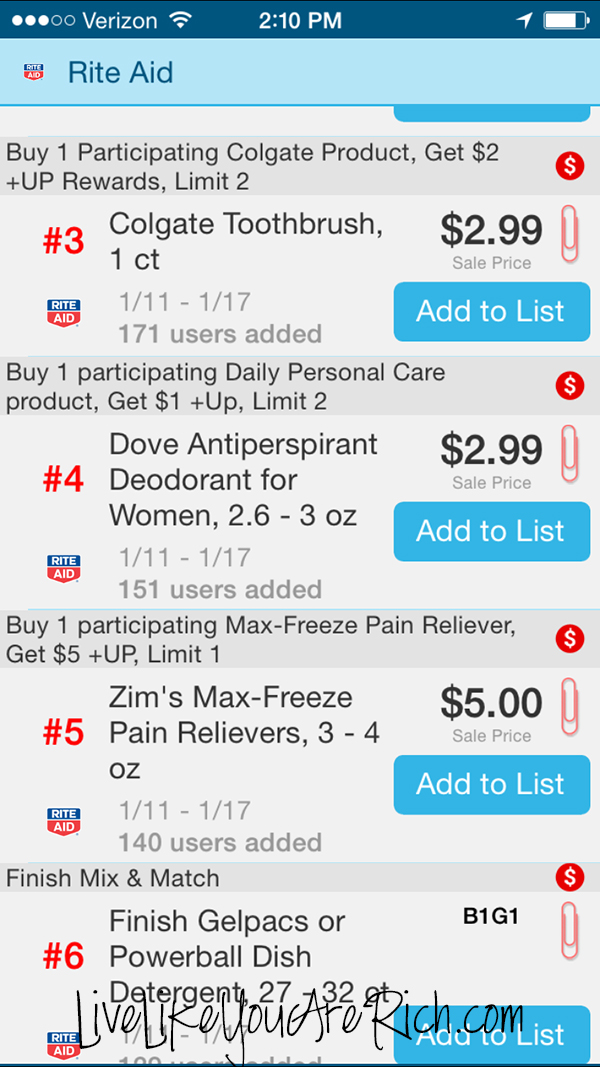 Then when you click on an item it shows you the cheapest price you can get it at. I'll show what happens when I click on the Colgate toothbrush found at the top of this first image.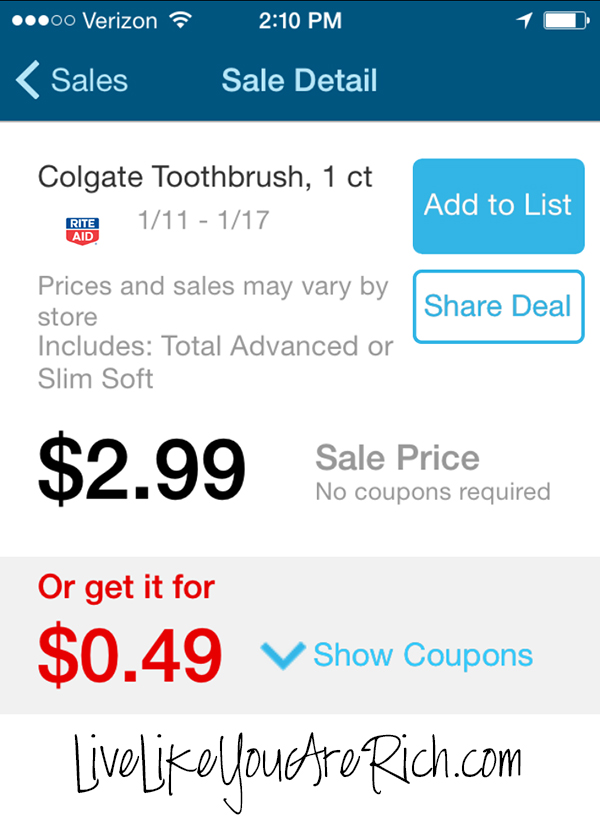 When you click the drop down menu 'show coupons', it displays the coupon(s) available (digital, paper, and printable).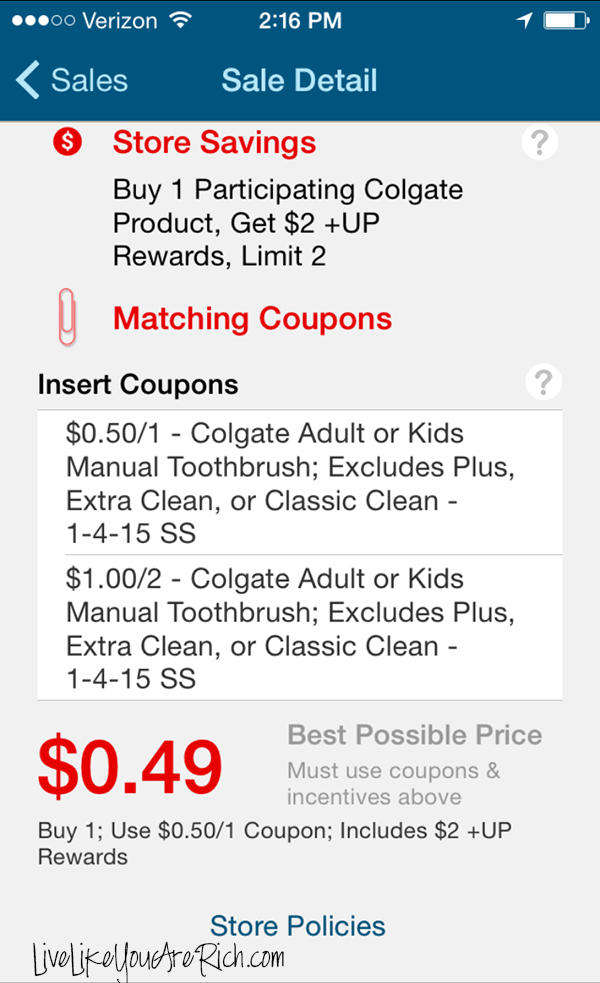 You can also see the Top 10 deals at each store. Another one of my favorite things is, if you have your coupon binder and your phone, you can prep in your car.
For example, the other day I was waiting to pick something up and I had 30 minutes to kill. I was near a Dollar Tree and I had my coupon binder in my car. I sat in the parking lot with my phone for about 10 minutes and pulled up Favado's Dollar Tree page.
I saw all of the amazing deals and stock up items that paired with the coupons I had. I added them to the Favado shopping list page in the app and then went inside the store.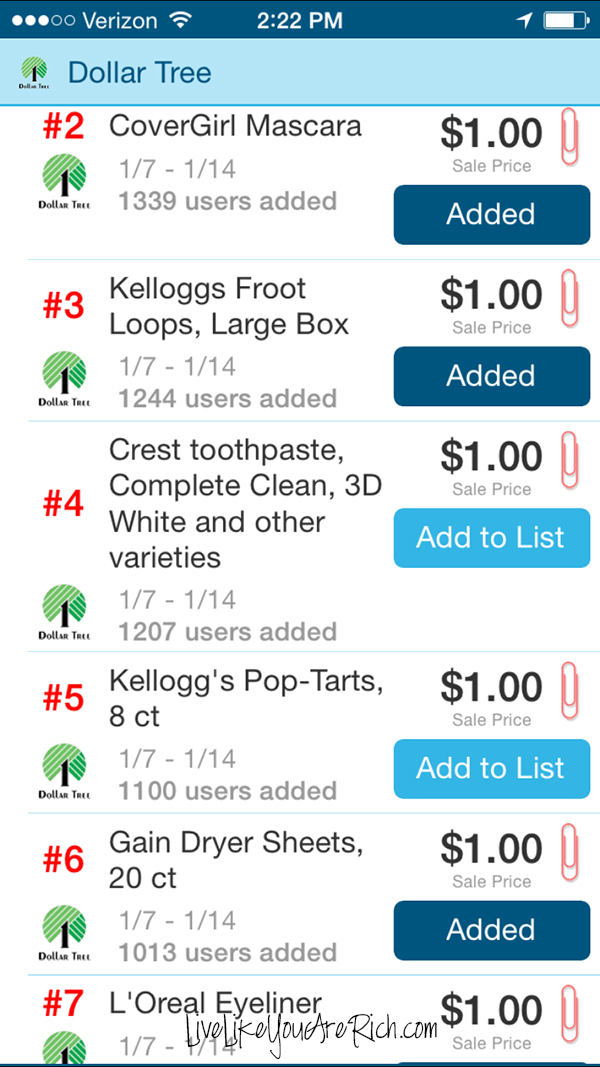 I ended up saving over $30.00 and getting most of everything deeply discounted or free.
Favado makes preparation for couponing very streamlined, efficient, and simple.You don't even have to have a coupon binder. A lot of the digital coupons can be loaded to your store loyalty cards (if applicable) from within the app. Others can be printed from any computer.
You can download Favado for free here.
Are you a fan of Favado? You could win $1000.00 by sharing your thoughts about it. Share your story here: #MyFavado Sweepstakes.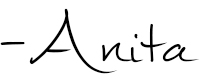 For other 'rich living' and couponing tips, please subscribe, like me on Facebook, and follow me on Pinterest.
Sponsored by Favado, all opinions are 100% mine.