I've made this a few times in the last few weeks. One for a family party, once for me, and once for a big party of women (church gathering).
This is an awesome recipe that tastes better than most restaurant spinach artichoke dips. So far most everyone who has tried it has loved it and asked me for the recipe. It differs from normal Spinach Artichoke Dip because it is so light and fluffy. The texture really is perfect for spreading on crackers, chips, grilled sandwiches, or as a dip.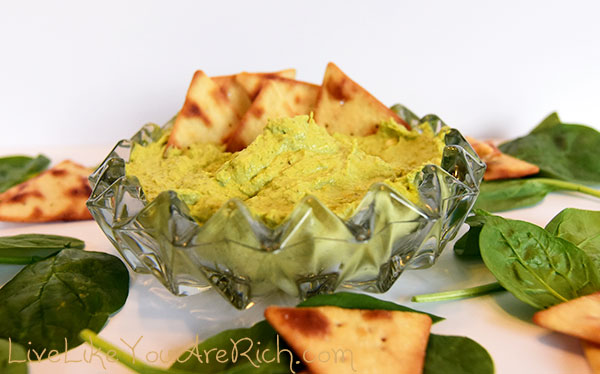 It is kind of interesting how I came up with this recipe. I wanted to make a large batch of my Crowd-Pleasing Spinach Artichoke Dip (found here) but my food processor wasn't working. So, I decided I'd try mixing it all together in our BlendTec Blender-seriously they are amazing blenders by the way. The consistency came out different than normal dip but I liked it. So I baked it as normal and it has become a hit.
Frankly, I'm a big fan of normal Spinach Artichoke dip but I LOVE this recipe! The texture is awesome. If you too like traditional Artichoke Spinach dip, this is a Must-Try!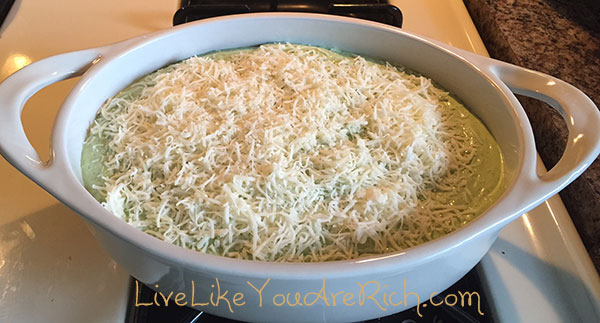 Note- In the two photos above (the blender and dish) the recipe has been doubled.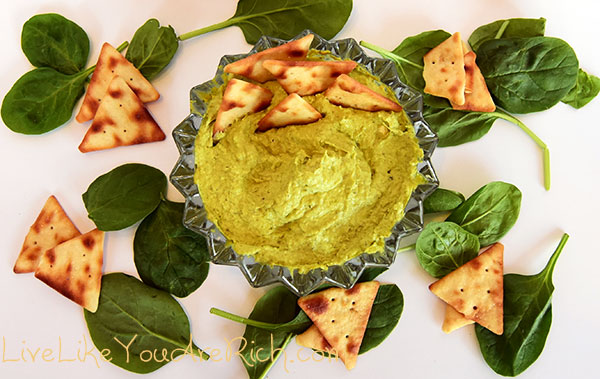 Enjoy!
Supply List
Spinach Artichoke Cream Cheese Spread
This is an awesome recipe that tastes better than most restaurant spinach artichoke dips. Everyone loves it. It is light and fluffy-which is perfect for crackers, chips, etc.
Author:
Anita @ LiveLikeYouAreRich. com
Ingredients
1 (8 ounce) package of cream cheese (or whipped cream cheese is even better)
2 Tablespoon Mayonnaise
3 Tablespoons Sour cream
½ Cup Italian cheese blend (Romano, Parmesan, Asiago) or ¼ Cup Romano and ¼ Cup Parmesan OR ½ cup parmesan (the shredded fresh kind is what I use)
½ teaspoon garlic powder
⅛ teaspoon salt
¼ teaspoon dried basil
1 Can Artichoke Hearts (drained and chopped)
⅓ Cup shredded Mozzarella (Frigo brand is my favorite). ¼th goes into the dip, the rest is sprinkled on top.
¾ Cup frozen thawed spinach (drained) or two handfuls of fresh. I have used both frozen and fresh. I find both taste great. In this batch I used fresh.
Salt and pepper it to taste
Instructions
Mix all of the ingredients in a blender (on low or until well mixed).
Pour into an oven safe dish.
Sprinkle a little mozzarella cheese on top.
Bake for 25 minutes in the oven on 350 F.
Serve warm/hot and enjoy!

For other 'rich living tips' and gourmet recipes please subscribe, like me on Facebook, and follow me on Pinterest and Instagram.

You may also like Crowd-Pleasing Spinach Artichoke Dip