Crowd Pleasing Potato Salad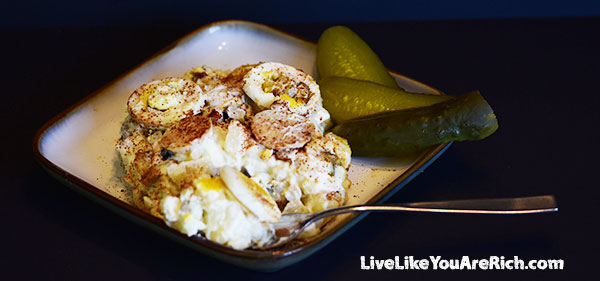 Author:
Anita @ LiveLikeYouAreRich.com
10 pounds of red potatoes, boiled peeled and diced
1½ white/yellow onion, diced
5 stalks celery, diced
12 Boiled eggs (8 diced and 4 sliced thinly for garnish),
2 cans of sliced olives
1 small bottle of sweet pickles, diced
1½ quarts of Mayo
1 pint of sour cream
salt and pepper to taste
paprika for garnish
Boil the red potatoes until tender, peel the skins off, and dice potatoes.
In a medium bowl mix sour cream and mayo together.
In a very large bowl stir potatoes, olives, onions, 8 boiled eggs, pickles, celery, and mayo/ sour cream together. Add salt and pepper to taste.
To garnish: Slice the remaining 4 eggs thinly and place on top of the salad. Sprinkle paprika on top.
Recipe by
Live Like You Are Rich
at https://stage1.livelikeyouarerich.com/crowd-pleasing-potato-salad/