Not Your Average Homemade French Toast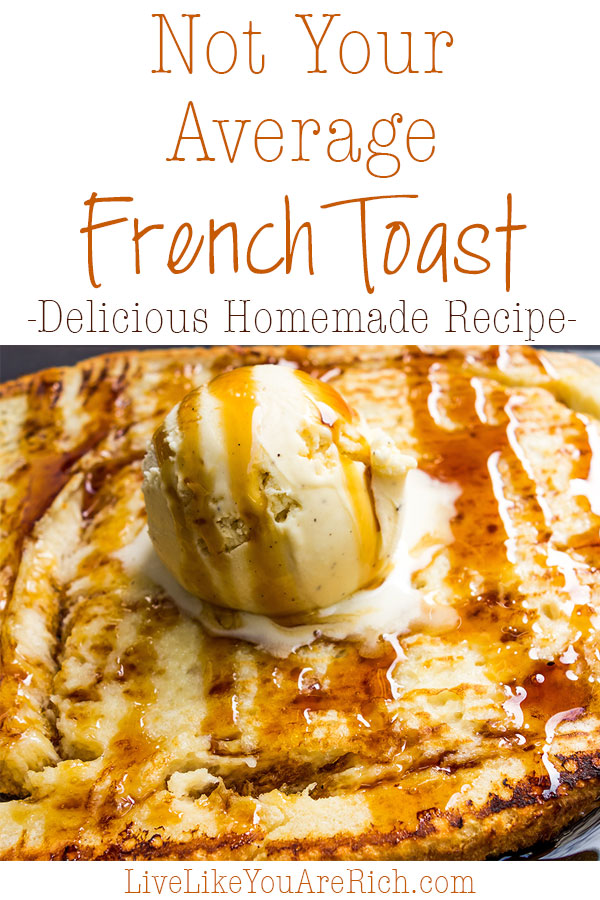 Author:
Anita @ LiveLikeYouAreRich.com
¼ cup all-purpose flour
1 cup milk
1 pinch salt
3 eggs
1½ teaspoons ground cinnamon
2 teaspoons vanilla extract (from Mexico-if possible)
1 Tablespoon white sugar
24 slices cinnamon swirl bread (found in bakery). If you can't find cinnamon swirl bread, use Texas Toast or Challah bread (be sure to soak thicker toast well).
Topping Ideas: Vanilla or Pralines and cream ice cream, whipping cream, maple syrup, butter, fruit, Nutella, or Peanut Butter.
Whisk milk into flour in a large mixing bowl. Whisk in the salt, eggs, cinnamon, vanilla extract and sugar until smooth.
Soak bread in custard, flip and soak the other side. Let excess custard drip off (so it doesn't pool in pan).
Use cooking spray or butter to grease a skillet or frying pan. Cook on medium heat until golden brown on each side.
Whisk or stir batter between dipping different slices.
Dip and cook each slice of bread until done. Keep toast warm in a heated oven~175F.
Serve hot and top with any of the following: maple syrup, ice cream, butter, fruit, whipping cream, Nutella, or peanut butter.
Recipe by
Live Like You Are Rich
at https://stage1.livelikeyouarerich.com/delicious-homemade-french-toast-recipe/