Chicken Cacciatore Slow Cooker Recipe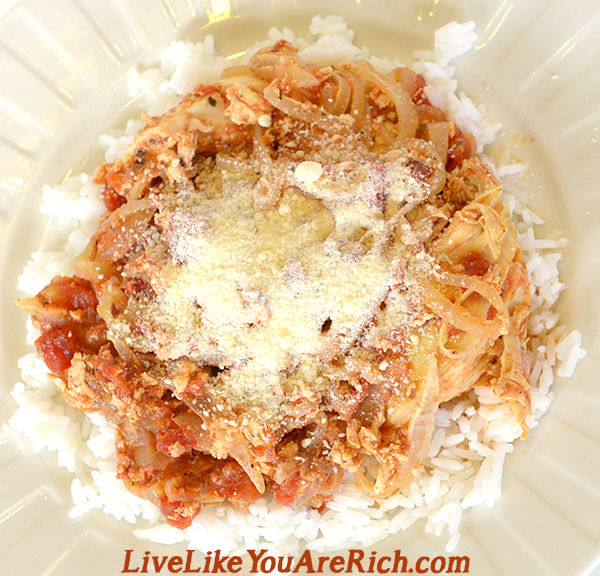 2 medium onions, thinly sliced
2½-3 pounds of frozen boneless skinless chicken breasts
1 teaspoon salt
¼ teaspoon pepper
1 teaspoon garlic powder (or 3 fresh garlic cloves, minced)
1 (28 oz) can crushed or diced tomatoes
1 (8 oz) can tomato sauce
2 tsp. dried oregano
1 tsp. dried basil
Prepared rice or pasta, optional
Parmesan cheese (topping), optional
Place onion slices on the bottom of the slow cooker.
Place frozen chicken on onions.
In a medium bowl, combine the rest of the ingredients.
Pour mixed ingredients over frozen chicken in slow cooker.
Cover and cook for 5-6 hours on high heat. Stir once every 2 hours.
If desired, serve with prepared rice or pasta.
Garnish with Parmesan cheese.
Recipe by
Live Like You Are Rich
at https://stage1.livelikeyouarerich.com/chicken-cacciatore-slow-cooker-recipe/