Fail-Proof Carrot Cake Recipe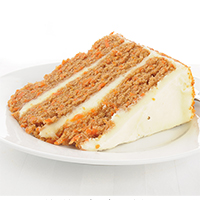 3⁄4 cup olive oil
2 cups unbleached flour
2 tsp. cinnamon
4 eggs
1 cup brown sugar
3 cups grated carrots
1⁄2 cup white sugar
1 (14 oz.) can crushed pineapple with juice
1 tsp. salt
2 tsp. baking soda
2 tsp. baking powder
Optional
½ Cup chopped walnuts
½ Cup raisins
½ Cup shredded coconut
Sift cinnamon, flour, sugars, salt, soda and baking powder in a large bowl.
Add oil, eggs, carrots and pineapple. Mix 3 minutes.
Bake in cake pan at 350 degrees for 28-35 minutes or until the middle springs up with the light press down of a finger
Mix up The Best Cream Cheese Frosting from LiveLikeYouAreRich.com and frost (fill optional) when cooled.
Recipe by
Live Like You Are Rich
at https://stage1.livelikeyouarerich.com/fail-proof-homemade-carrot-cake-recipe/