Best Apple Crisp Recipe Ever!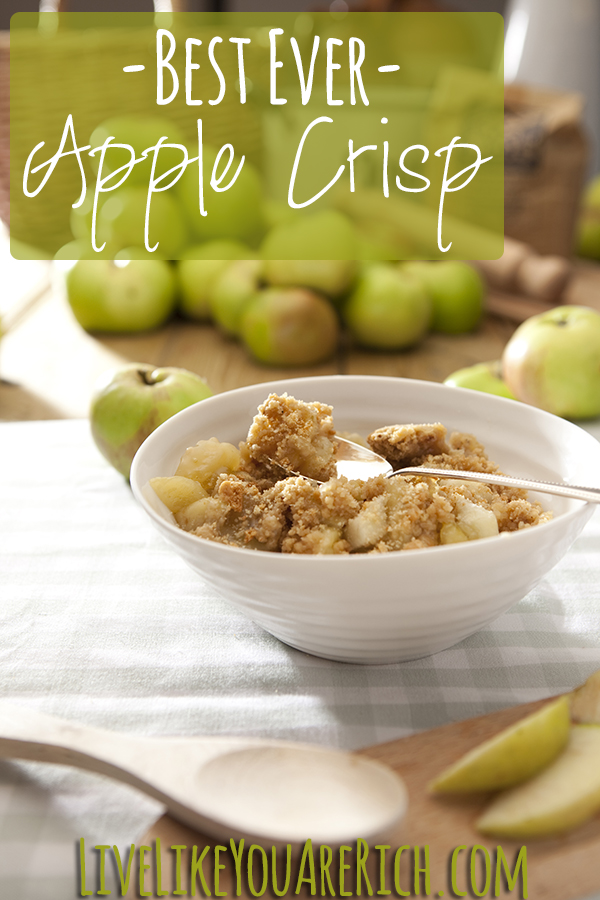 10 cups Granny Smith apples, peeled, cored and sliced (6 or 7 regular size)
1¼ cup white sugar
1 tablespoon all-purpose flour
1 teaspoon ground cinnamon
¼ cup water
2 cups quick-cooking oats
2 cups all-purpose flour
2 cups packed brown sugar
½ teaspoon baking powder
½ teaspoon baking soda
1 cup butter, melted
Preheat oven to 350 degrees F (175 degree C).
Mix the white sugar, 1 tablespoon flour and ground cinnamon together. Lay apple slices in mixture and flip over apples so they are coated well.
Combine the oats, 2 cups flour, brown sugar, baking powder, baking soda and melted butter together in a bowl.
Place about ¼ of the oat mixture at the bottom of a 9x13 inch pan
Place the sliced apples over the ¼ mixture
Pour the rest of the sugar-cinnamon mix evenly over the apples
Pour ¼ cup water evenly over apples
Crumble the rest of the ¾th oat mixture evenly over the apples.
Bake at 350 degrees F (175 degrees C) for about 45 minutes.
Take it out as soon as the top is lightly golden brown. Cool slightly and serve warm.
Tastes even better paired with ice cream or whipping cream.
Recipe by
Live Like You Are Rich
at https://stage1.livelikeyouarerich.com/best-apple-crisp-recipe-ever/