Halloween Frog Eye Salad Recipe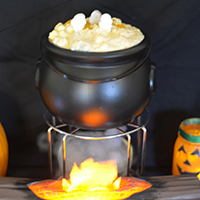 Author:
Anita @ LiveLikeYouAreRich.com
3 Cups Orange Scream Milk or regular milk
1 Vanilla Instant pudding Mix (serves 6)
2 (20 oz) cans Pineapple Tidbits
3 (11 oz) cans Mandarin Oranges
1½ C. Acini Di Pepe (couscous is the same thing! If you can't find the Acini Di Pepe use plain couscous)
2 Cups heavy whipping cream (You can use cool whip but I think real whipping cream makes for a much better salad)
2 tsp Vanilla extract (the Mexican kind is the best)
1½ C sugar
1½ bag Halloween marshmallows or mini mallows
Wisk milk and vanilla instant pie pudding in a bowl, set in fridge to cool and set (5-10 minutes). Drain oranges and pineapple and pour into a bowl and put in freezer to cool really well.
Cook Acini Di Pepe in 6 cups of boiling water and ¾ teaspoon salt (or according to directions on box) boil for at least 9 minutes. Strain and rinse well with cool water. Put it in a bowl and put in freezer to cool really well.
Whip whipping cream in a mixer until it forms firm peaks. Fold in vanilla extract and sugar.
Fold whipping cream into the set up pudding. Once the fruit and pasta are cool, stir fruit, mallows, and pasta into pudding/whipping cream mixture. Put in the refrigerator to cool for about 30 minutes.
Recipe by
Live Like You Are Rich
at https://stage1.livelikeyouarerich.com/halloween-frog-eye-salad-recipe/