Strawberry Cheesecake Waffle Recipe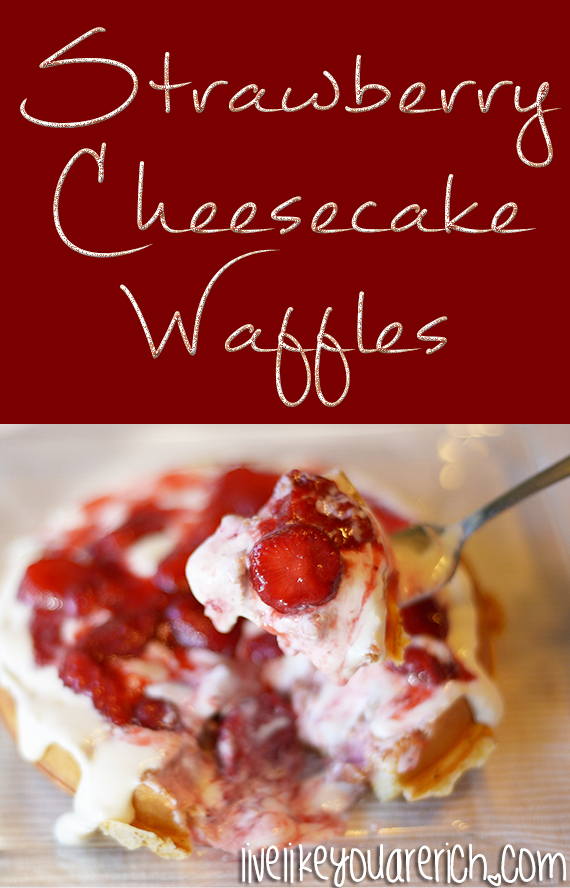 Author:
Anita @ LiveLikeYouAreRich.com
3 Cups Pancake mix (Start with 2½ and add until you get the desired consistency).
1½ Cup Water
⅔ Cup Vegetable Oil
4 Eggs
1 Can sweetened and condensed milk Eagle brand! (very important) I tried a store brand and it was too runny. If you only have a store brand you will need to add about 3-4oz of cream cheese to get the right consistency.
1- 8 oz package cream cheese
Juice of two large lemons or 2½ Tablespoons
1 16 oz container of sliced frozen fresh strawberries with sugar (defrosted). You may want to have two containers or a larger container on hand incase you want a lot of strawberry topping.
Pam/cooking spray
Start waffle iron
Blend the pancake mix, water, eggs, and oil in the blender on a low mix setting for about 30 seconds or until just mixed. Do not over mix. Add more pancake mix if the mixture is too runny. It should be the consistency of drinkable yogurt. Once the iron is preheated, pour the mixture in (spraying with Pam first).
While the waffles are cooking heat the unwrapped cream cheese for 30 seconds in the microwave, juice the lemon, and open the sweetened condensed milk. Mix all 3 ingredients together in a medium sized bowl with a hand mixer or like.
When the waffles are done, top with cheesecake topping and add strawberries with strawberry juice (that is in the container) on top.
For those who like rich and sweet add more topping, for those who do not like rich things spread both toppings very thin.
Enjoy!
Recipe by
Live Like You Are Rich
at https://stage1.livelikeyouarerich.com/strawberry-cheesecake-waffle-recipe/