Red, White, and Blue Breakfast Parfait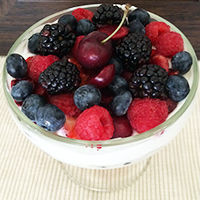 Author:
Anita @LiveLikeYouAreRich.com
Strawberry
Vanilla Oikos Greek
Blueberry
Raspberry
Cherry
Put a layer of diced strawberries on the base of the glass, bowl, or cup.
Cover the strawberries with Vanilla Oikos Greek Yogurt (or any variety of Vanilla yogurt).
Add a layer of blueberries.
Cover the blueberries with another layer of vanilla yogurt.
Top with blackberries, raspberries, diced strawberries, diced cherries, and blueberries. Add a full cherry for height.
Enjoy. This is best kept and served chilled.
Recipe by
Live Like You Are Rich
at https://stage1.livelikeyouarerich.com/red-white-and-blue-breakfast-parfait/