Crowd-Pleasing Spinach Artichoke Dip Recipe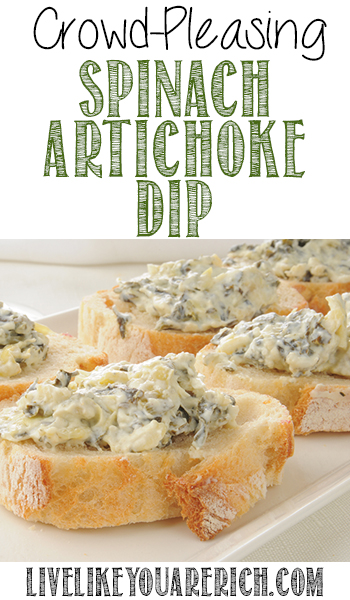 Author:
Anita @LiveLikeYouAreRich.com
1 (8 ounce) package of cream cheese (or whipped cream cheese is even better)
2 Tablespoon Mayonnaise
3 Tablespoons Sour cream
½ Cup Italian cheese blend (Romano, Parmesan, Asiago) or ¼ Cup Romano and ¼ Cup Parmesan.
½ teaspoon garlic powder
⅛ teaspoon salt
¼ teaspoon dried basil
1 Can Artichoke Hearts (drained and chopped)
⅓ Cup shredded Mozzarella (Frigo brand is my favorite). ¼th goes into the dip, the rest is sprinkled on top.
¾ Cup frozen thawed spinach (drained). I have used both frozen and fresh. I find both taste great. In this batch I used fresh. I ran it through a food processor to chop it up really well.
Salt and pepper it to taste
Mix all of the ingredients in an oven safe dish (gently mixing in the spinach and artichokes last). Sprinkle a little mozzarella cheese on top.
Bake for 25 minutes in the oven on 350 F.
Serve warm/hot and enjoy!
Recipe by
Live Like You Are Rich
at https://stage1.livelikeyouarerich.com/crowd-pleasing-spinach-artichoke-dip-recipe/