5 Star Mexican Dish in 3 Minutes! Garantizado (Guaranteed)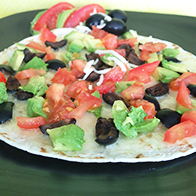 Author:
Anita @LiveLikeYouAreRich.com
tortilla
cheese (I used Mozzarella)
tomato
avocado
olives
garlic powder
salt
Put cheese on tortilla, sprinkle with one or two shakes of garlic powder and one shake of table salt. Tear apart about 5-7 olives and put on top of cheese. Microwave for 45 seconds.
As the tortilla is microwaving slice ¼ tomato (or ½ Roma tomato) and cut up a quarter of an avocado. Once the cheese is melted, take the dish out of the microwave and top with the tomatoes and avocados.
Recipe by
Live Like You Are Rich
at https://stage1.livelikeyouarerich.com/the-best-mexican-lunch-youll-make-in-3-minutes-or-less/