Virgin Piña Colada Recipe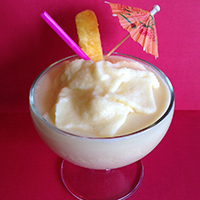 Author:
Anita @ LiveLikeYouAreRich.com
1½ Cup medium sized chopped chunks of Ripe Pineapple
1½ Tablespoon Orange Juice concentrate (secret ingredient)
½ can or ¾ Cup Coco Lopez Cream of Coconut (this can usually be found in the Hispanic food or drink isles at the grocery store or here)
Ice
VERY IMPORTANT. First you need to pour the whole can of the Coco Lopez into a bowl and mix it with a spoon because the coconut oil and other ingredients separate.
Put the first 3 items in a blender. Then fill the blender up with ice (3/4 full). Blend well.
TASTE TEST depending on taste preferences and how much ice you put in it, it may be too rich or even possibly taste a little diluted. If it is too rich add another cup of ice and blend again. If it is diluted add another chunk of pineapple and a Tablespoon of Coco Lopez and blend again. Filling the ice about ¾ full usually works great for a standard size blender.
Recipe by
Live Like You Are Rich
at https://stage1.livelikeyouarerich.com/fine-dining-tested-celebrity-approved-my-pina-colada/