Fall-Apart-Tender Pulled Pork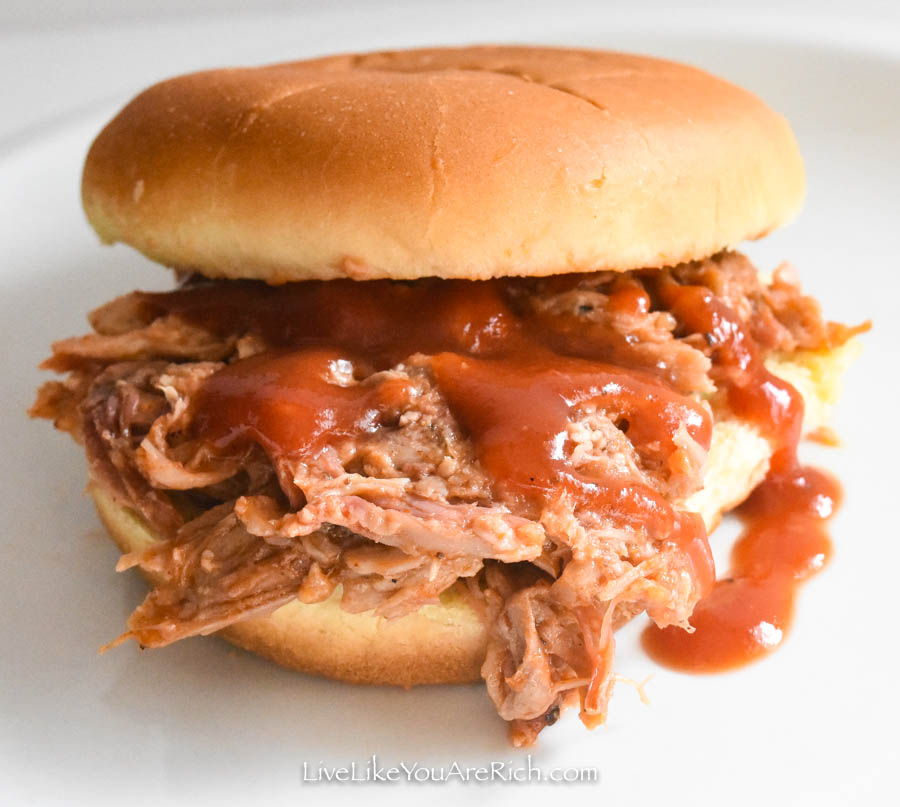 Author:
Anita @ LiveLikeYouAreRich
* Pork shoulder
* Spicy brown mustard- spread generously on shoulder (1/2 Cup)
* Pork Dry Rub-spread generously on shoulder (1/3 Cup)
* Apple Juice in a spray bottle to spay on shoulder every 30 minutes (1½ Cups)
Coat in spicy brown mustard (regular mustard will work as well).
Rub generously with Pork Dry rub.
Smoke it on a tray (unwrapped) for 4-5 hrs on low heat (use either smoke setting or up to 180).
Spray with apple juice every 30 minutes.
Flip meat every hour for 4-5 hours. After 4-5 hrs the meat has already absorbed the smoke flavor to its maximum. You can continue smoking it longer, but to preserve wood chips we take ours off and put it in the oven.
Wrap it really tight in thick aluminum foil. Make sure it is wrapped in 2-3 layers of aluminum foil (super tightly).
Place in roasting pan (or deep pan) fat side up. Roast in large deep pan at 225 F for about 4 hours or until internal temperature is 190. TIP- They way we do it is Put it in oven at 190 F overnight and then middle of meat 190F when we wake up, but to add a little additional time (and make sure it is fall-apart-tender, we usually leave it in the oven at 225 F until lunch or dinner the next day).
Take it out and unwrap it. Allow it to rest for 15-30 minutes. Shred it with meat shredders.
Add BBQ sauce (see this site for the best homemade version ever).
Or serve plain.
Refrigerate leftovers for up to 10 days.
Recipe by
Live Like You Are Rich
at https://stage1.livelikeyouarerich.com/fall-apart-tender-pulled-pork/