Slow Cooker Chicken Tortilla Soup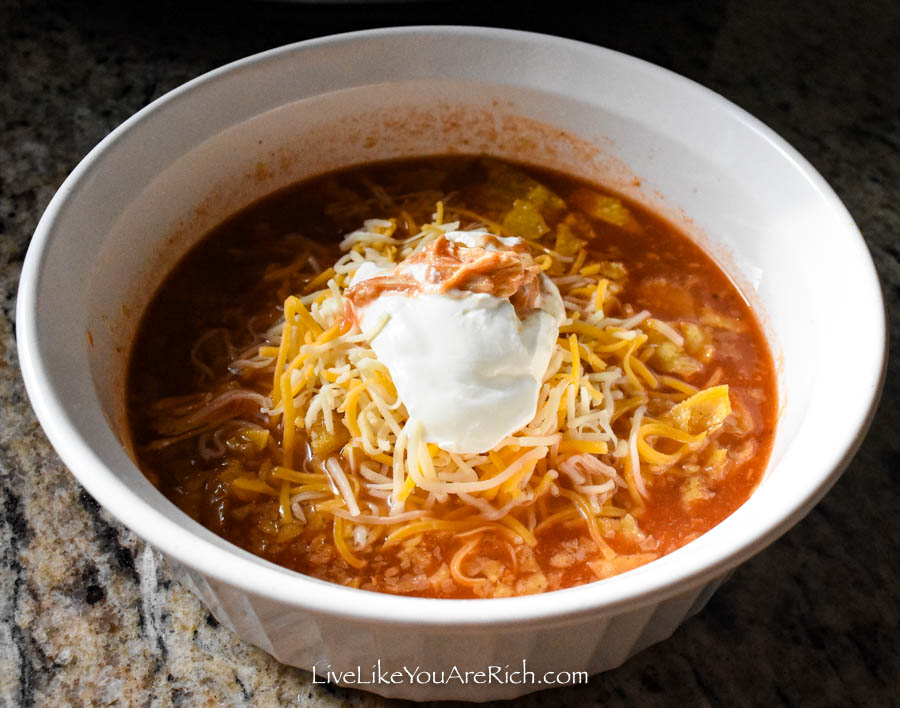 Author:
Anita @ LiveLikeYouAreRich.com
3 pounds frozen chicken
2 (15 ounce) cans tomatoes,
1 (15 ounce) can tomato sauce
½ Cup Mild, Medium or hot salsa
1 medium onion, chopped
1 (4 ounce) can chopped green chile peppers (mild or hot based on preference)
3 cloves garlic, minced or crushed (or ¼ teaspoon garlic powder)
2 cups water
1 (14.5 ounce) can chicken broth
1 teaspoon salt
¼ teaspoon black pepper
1 bay leaf
2 (15 ounce) cans of corn (not drained)
2 tablespoons chopped cilantro (or ½ Tablespoon dried parsley)
¾ Cup lime juice (4-6 limes)
Optional for hot version
1 teaspoon cumin
1 teaspoon chili powder
MILD: Add frozen chicken breasts, broth, cilantro, water, lime juice, salt, pepper, onion, minced/crushed garlic (or garlic powder), canned tomatoes, mild canned chili peppers, mild salsa, canned tomato sauce, canned corn (not drained), and bay leaf in a crock pot. Cook on slow for 6-8 hours. Take chicken out after 2-3 hours, shred it and return it to the soup to continue cooking.
MEDIUM: Follow the instructions above but add normal/hot chili peppers and medium salsa.
HOT: Follow instructions for mild but use hot/normal canned chili peppers, hot salsa, 1 teaspoon chili powder, 1 teaspoon cumin.
Top it with crushed tortilla chips, sour cream, and Mexican blend cheese. Refrigerate leftovers.
Recipe by
Live Like You Are Rich
at https://stage1.livelikeyouarerich.com/slow-cooker-chicken-tortilla-soup/