How to Make Breadsticks out of Frozen Bread Dough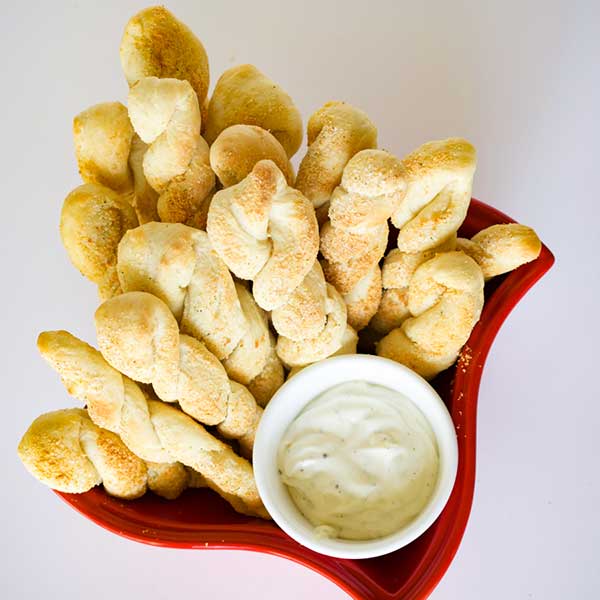 Author:
Anita @ LiveLikeYouAreRich.com
Serves:
24 breadsticks (12 per loaf)
2 loafs of frozen Rhode's bread dough defrosted
Lawry's garlic salt
⅓ Cup parmesan cheese grated
⅓ Cup salted/regular butter melted
Take 2 or 3 loafs of Rhode's frozen bread dough out of the freezer. Place on counter top for a few hours until defrosted and slightly risen.
Preheat oven to 350 F Cut each bread dough into 12 pieces. Roll them length wise so they are about 8 inches or longer.
Dip the rolled out dough into salted butter. Then fold in half and wrap the dough around each other creating a twist and pinch ends. Lay them on a tin foiled or silicone baking mat on a baking sheet. They may unravel just a bit that's completely normal though.
Sprinkle ⅛ teaspoon Lawry's garlic salt per stick. Then cover generously with parmesan cheese.
Cover with sprayed plastic wrap and let rise until about double in size. I usually don't wait more than 30 minutes. Bake for 15-20 minutes or until the parmesan is golden brown.
Recipe by
Live Like You Are Rich
at https://stage1.livelikeyouarerich.com/how-to-make-breadsticks-out-of-frozen-bread-dough/