Crowd-Pleasing Pavlova Dessert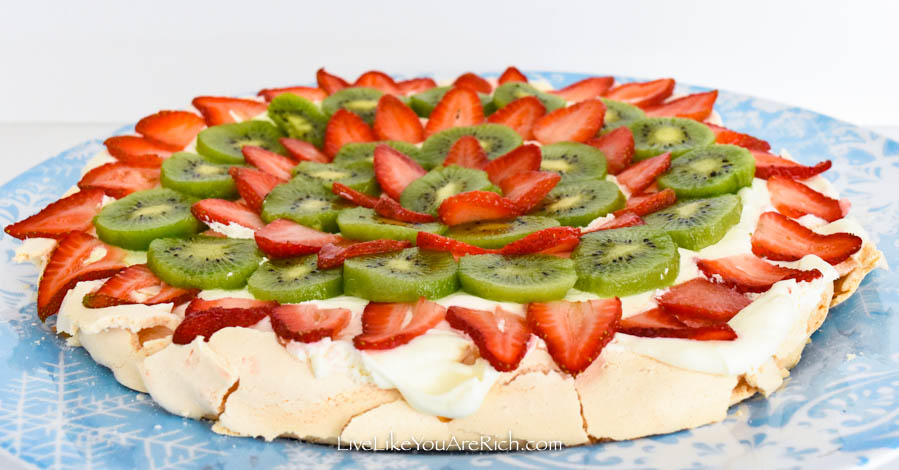 Author:
Anita @ LiveLikeYouAreRich.com
Meringue
4 egg whites
1 cup white sugar
1 teaspoon vanilla extract
1 teaspoon lemon juice
2 teaspoons cornstarch
Topping
2 cups heavy whipping cream
3 tablespoons confectioners' sugar
1 teaspoon vanilla extract
Topping
1 pint ripe strawberries, stems removed and sliced
8 ripe Kiwis peeled and sliced
Or a variety of other fresh fruit
Preheat oven to 300 F. Line a baking sheet with parchment paper and sprinkle with a little cornstarch OR use a silicone baking mat on the baking sheet.
Beat egg whites until fluffy but not dry. Gradually beat in the sugar 1 Tablespoon at a time, beating well in between. Once the mixture has turned thick and glossy, fold in the cornstarch, vanilla, and lemon juice. Fold them into the mixture well.
Spoon the meringue onto the parchment paper or the silicone baking sheet making a circle shape. Make the edges higher than the center (this is to form a valley for the toppings to sit into).
Bake for 1 hour. Turn the oven off and crack the oven door open. Leave the pavlova in the oven while it cools (30-60 minutes).
Whip the heavy whipping cream, confectioners sugar, and vanilla until stiff peaks form.
Use a thin spatula to loosen the Pavlova from the parchment paper or silicone baking sheet. Transfer it on to a decorative platter or cake stand before topping it.
Top the pavlova with whipping cream and fruit. Popular favorites are strawberries, kiwis, passion fruit, raspberries, mangos, blueberries, and blackberries. Use any knife and pie spatula to serve it.
Serve within 24 hours. Keep refrigerated.
Recipe by
Live Like You Are Rich
at https://stage1.livelikeyouarerich.com/crowd-pleasing-pavlova-dessert/