The BEST Freezable Rolls Recipe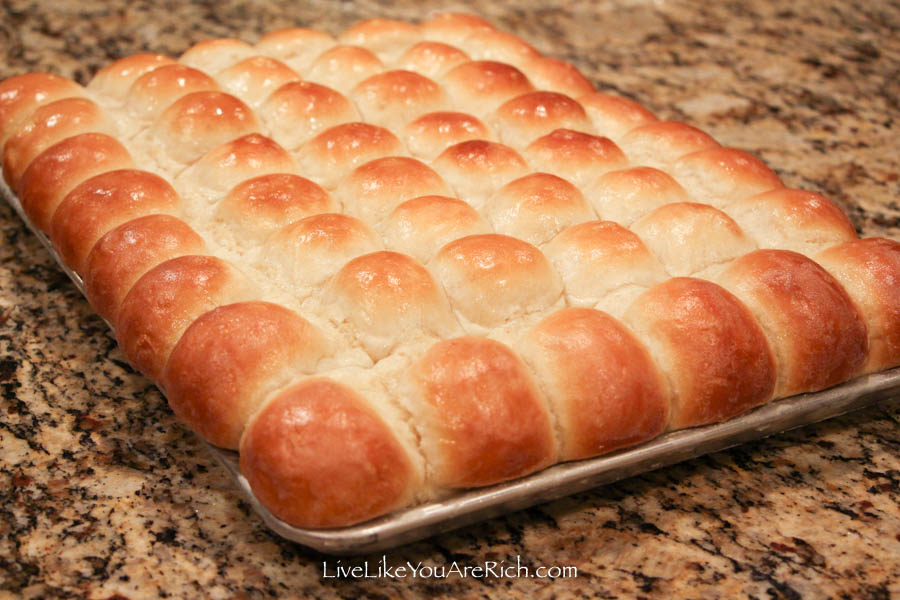 Author:
Anita @ LiveLikeYouAreRich.com
3¾ c. water
5 t. yeast
¾ c. sugar
3 t. salt
⅓ c. oil
8-10 c. flour, sifted
1 cube salted butter
Mix together water, sugar and yeast. Let proof. Add in oil and 4 cups of flour, mix until smooth. Add in salt and just enough of remaining flour until dough begins to pull away from the side of the bowl (between 4 and 6 cups). Flour entire surface of dough to prevent sticking, and let rise to double. Punch down and form rolls by pulling off a golf-ball sized piece of dough and turning inside out to form a smooth top and pinching the edges underneath. Place rolls on a greased baking sheet and let rise to double again. Bake at 375°F for 18-20 minutes until golden brown. Remove from oven and immediately butter the tops of the rolls.
To Freeze: Cool rolls completely, place desired amount in a freezer safe bag and place in freezer. When ready to use, remove from freezer and let thaw on the counter for 2 hours, or remove from bag, break apart rolls, and microwave until warm.
Recipe by
Live Like You Are Rich
at https://stage1.livelikeyouarerich.com/best-freezable-rolls-recipe/