How to Make Banana Pancakes out of Pancake Mix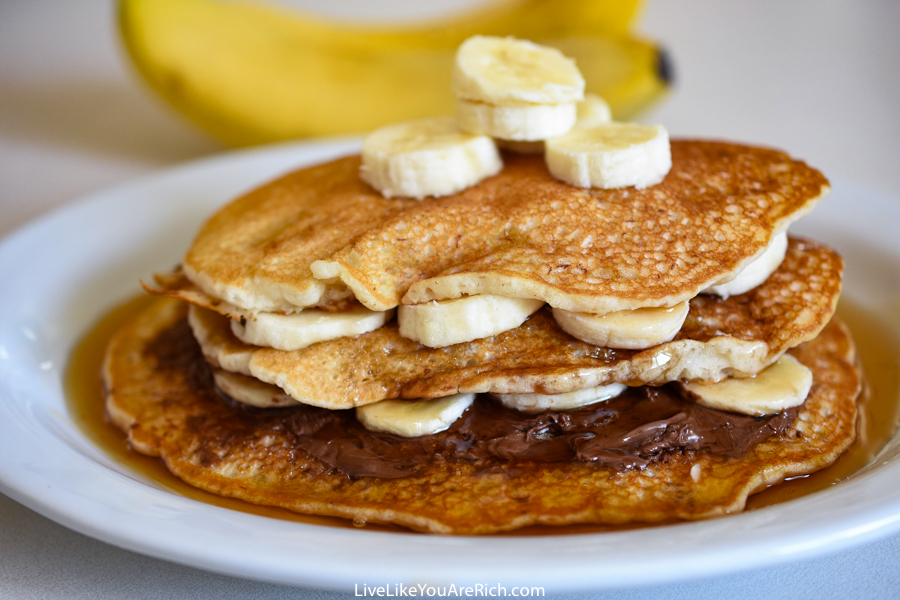 Author:
Anita @ LiveLikeYouAreRich.com
Serves:
20 4-inch pancakes
3 Cups mashed bananas (about 3 medium)
3 Cups pancake mix
½ Cup butter flavored syrup
1½ teaspoon vanilla extract
2¼ Cups water
Non-stick cooking spray
Mix mashed up bananas, syrup, vanilla, water, and pancake mix in a bowl. Heat pan or skillet to medium heat or 350 F.
Spray non-stick cooking spray onto surface of pan or griddle. Once the pan is hot (test by dropping a drop of water on the pan—it should make a hissing sound and evaporate quickly), pour ¼-1/2 Cup of batter on the pan. Because of the banana, these pancakes will be heavier and a little more difficult to flip than a normal one. If the side faced down is cooked to a light brown and most of the air bubbles are popped before you try to flip it AND you get a good scoop underneath the pancake with a spatula, they will flip just fine. Cook the other side until light brown or cooked through as well.
Top with one or more of the following: bananas, honey, syrup, peanut butter, Nutella, butter, jelly, marshmallow creme, fresh fruit, whipping cream, ice cream, etc.
Recipe by
Live Like You Are Rich
at https://stage1.livelikeyouarerich.com/how-to-make-banana-pancakes-out-of-pancake-mix/