No-Bake Nutella Heath Pie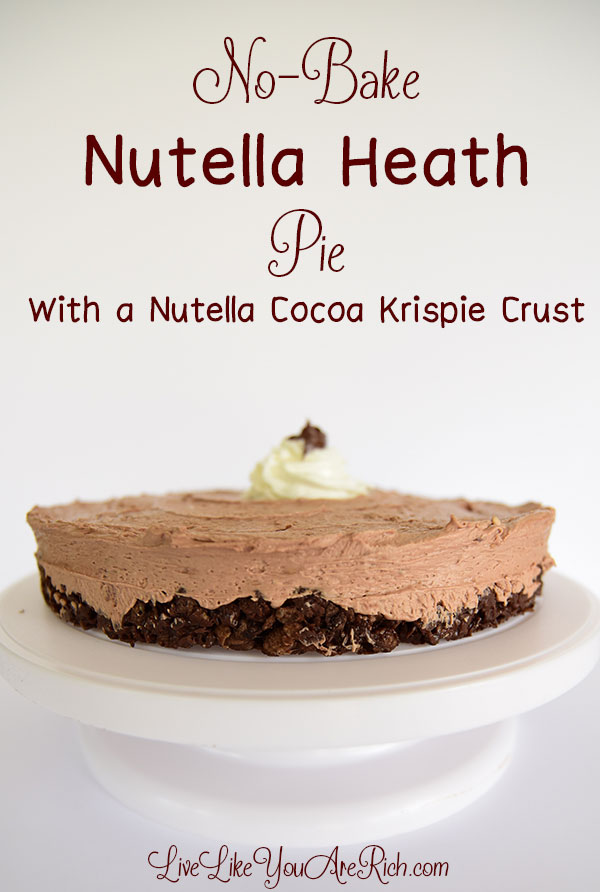 Author:
Anita @ LiveLikeYouAreRich.com
1 (13 oz) Jar Nutella (separated)
3 Cups Cocoa Krispies
½ bag (or 20 regular sized) marshmallows
1½ tablespoons salted butter
1 (8 oz) block of cream cheese room temperature (or warm)
1 (8 oz) container of cool whip or healthier version (Tru Whip found at Walmart), thawed
½ Cup Heath bits
For crust
Melt the butter and ¼ Cup Nutella in the microwave for 30 seconds. Stir in marshmallows.
Next, microwave marshmallow and butter for 45 seconds, stir well. Microwave 30 seconds, stir. The marshmallows should be melted now.
If not, keep heating for 20 seconds and stirring until they are melted.
Add Cocoa Krispies and mix well.
Finally, place into a well greased pie tin and press down. Allow crust to cool (20 minutes or so).
For Filling
Beat remaining Nutella (about ¾ Cup) and cream cheese together until smooth, add heath bits, mix well.
Turn mixer to low and add cool whip then increase speed until well mixed.
Pour over Nutella-Krispie crust and freeze for at least an hour and a half.
Remove from freezer 20 minutes prior to serving.
Cut with a strong knife
Optional-Serve with whipping cream, caramel or chocolate sauce, or more heath bits on top.
Enjoy!
Recipe by
Live Like You Are Rich
at https://stage1.livelikeyouarerich.com/no-bake-nutella-heath-pie/