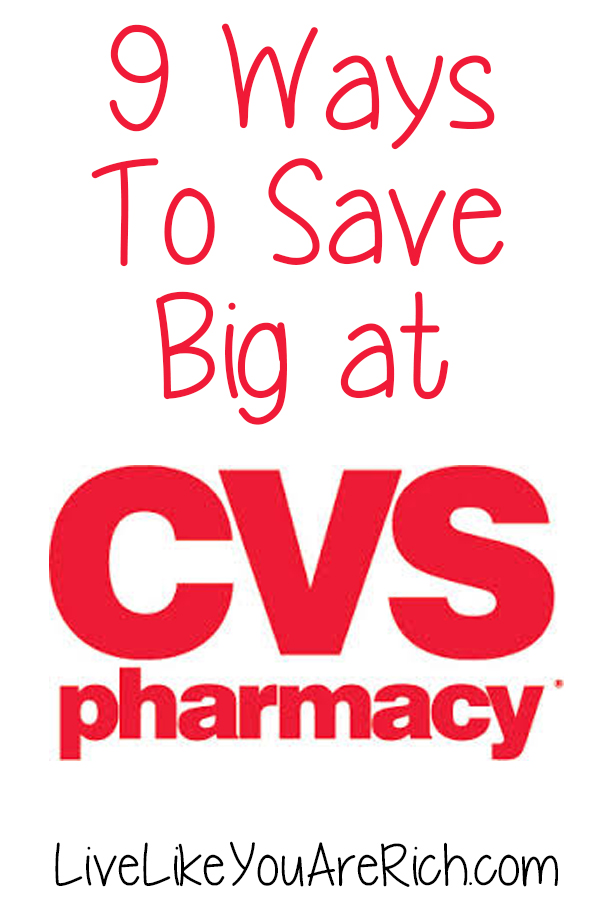 For years I was always so jealous of people who lived near a CVS! They always have such great deals and promos (especially on baby items and diapers). When I found out that a CVS was going to built near my house I was really excited. It opened a few months ago and I'm so happy I can now get these great deals!
1. Sign up for the CVS Extracare card. Hold on to it. If you lose it you may miss out on coupons that you can only get with having your physical card.
2. Earn ExtraBucks. ExtraBucks are similar to the old Rite Aid Up rewards. They print out at the bottom of the receipt and you can use them to pay for your next purchase/transaction. ExtraBucks are only available on certain products. They are posted on the weekly ads and also in the store. If you buy something with $2.00 ExtraBucks, you pay for the item and receive $2.00 at the bottom of your receipt. What I do is break my purchases up into multiple transactions. This way I can use the ExtraBucks I earn on the first transaction on the second. There are also limits to how many offers (items with ExtraBucks) you are allowed per card.
3. If you haven't yet, then I highly recommend downloading and using the free app called Favado. Favado allows you to look at one store (in this case Smith's) and see all the sale items and coupons that match up to those sale items. When I parked and turned off my car in the parking lot I pulled out my cell phone and opened the Favado app. Favado showed me all of the best deals. The ones that I liked I added to my list. Then I looked at all of Smith's sale items and deals (they have advertised and unadvertised) and I added those to my Favado shopping list as well. Then I looked at where the coupons were found. Because this was a last minute shopping trip I didn't have time to print out online coupons. But I was able to use the newspaper coupons I had with me and the online coupons Kroger and Smith's offers. This app really is efficient, helpful, and accurate. Click here to sign up for Favado for free.
Another great site to use (and can be used on both desktop and smart phone) is Grocerysmarts.com. You can select your state and then select the store and you can see all the sale items and coupon matchups.
If you just want to see what coupons are available and not look at a sale matchup site you can go here to Coupons.com
4. CVS Coupon Center Machine. There is a red coupon center machine like this located in CVS stores. When you scan your Extracare card often coupons will print out. Try scanning it at least 3 times. Sometimes the second and third times coupons will print out as well!
5. CVS Beauty Club- Sign up for CVS' Beauty Club. When you spend $50.00 in beauty items (precoupon) you will get $5.00 in ExtraBucks. You'll also get $3.00 on your birthday (if you add it to your profile when signing up).
6. Rainchecks- Often great deals disappear quickly at stores. I love that CVS offers rainchecks on their deals. The raincheck will specify the sale price on the item, if ExtraBucks would have been earned, and finally if there was a limit (aka 2 per person). This way you won't miss out on any great deals!!
7. Get cash back  by using Checkout51. It is a free app (also a website if you don't have a smart phone). It can be used with any store, which is great for people who live in smaller towns and that don't shop at big chain grocery stores. You can get cash back on milk, eggs, and other everyday groceries. I use this and use a coupon. Using all these methods I save a ton. And sometimes I get items for free! Sign up for Checkout51 here!
8- Combine sale items with coupons- Here is a website that shows you all the coupon match ups for the week in stores near you. You simply select your state>Select all stores> hit the start button>click on the star (dead center on the star) that is above the words Stock Up sales> Select shrink. Now you have all 4 & 5 star items (40-100% off) highlighted.
Favado is another great place to find match up prices and coupons for items at CVS. The coolest thing about Favado is that it is an app for smart phones and can go with you into the stores. It shows you the sale items on local stores and you can add them to a grocery list. Click Here to download Favado to your phone.
9. Subscribe to Ship and Save- If you often order the contact solution, allergy medicine, or skin or hair care you can get those shipped out to you on a regular basis for less than buying them in the CVS stores!
Bonus Tip: Sign up for their bonus on prescriptions. You can get $5 extra bucks for every 10 prescriptions filled.
New at Couponing? Check out this post: Couponing for Beginners: 11 Tips That Will Save You Thousands.
Are you a couponing Pro? Check out this post: 17 Mistakes Couponers Make and How to Avoid them.
Here is a link to how to coupon at Target.
How to coupon at Kroger aka Smith's, Ralph's, Fry's etc,
How to coupon at Walmart,
How to coupon at Walgreens,
How to coupon at CVS.
How to coupon at RiteAid
How to use the Favadao App